By Mike Spieker
ADA, Minn. (June 20, 2019) – The Buffalo Wild Wings NOSA Sprint Cars invaded Norman County Raceway on Thursday night during the 124th Norman County Fair.
Wade Nygaard of Grand Forks started on the pole of the 25-lap main event and took the lead at the drop of the green flag. Fellow outside front row starter, 16-year-old Brendan Mullen of Grand Forks, filed into second as Mark Dobmeier of Grand Forks and Thomas Kennedy of Winnipeg, Manitoba moved into third and fourth, respectively.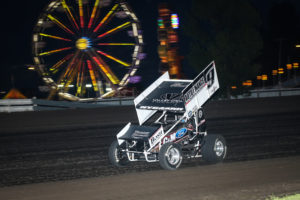 Dobmeier was able to sneak around Mullen and set his sights on Nygaard for the lead. Nygaard held a comfortable cushion over Dobmeier until a pair of cautions flew with under five laps to go. On each and every restart, Nygaard was able to hold off Dobmeier, NOSA's all-time wins leader.
On the final green-white-checkered finish, Nygaard quickly jumped out to a four car length lead and cruised to his seventh career Norman County Raceway victory.
Ada's Andy Wagner has been close to getting his No. 3X IMCA SportMod into KRJB/KRJM/KKCQ Victory Lane all season long. After a hard fought battle in the Titan Machinery main event on Thursday, Wagner picked up that elusive win. Wagner took the lead on lap two and jumped out to a big lead midway through.
In the closing laps, Brandon Schmidt of Hillsboro, N.D. was able to reel in Wagner and place a bid for the lead. Schmidt drove to the inside of Wagner coming to the white flag and had the preferred inside groove. Wagner held tough on the outside as they leaned on each other slightly in the final set of corners. In a drag race to the checkers, Wagner held on by a half car length to claim the win.
In what seems to be a regular occurrence this season at Norman County Raceway, the Christian Motors WISSOTA Midwest Modified feature came down to the brothers-in-law of Matt Schow of McIntosh, Minn. and Reise Stenberg of Argusville, N.D. Stenberg looked to have the race in hand until the yellow flag flew with just two laps to go.
On the ensuing restart, Schow got a great start and pulled even with Stenberg. Schow led by a nose as the lead duo passed underneath Matt Greseth's white flag. They remained dead even heading into turns three and four for the final time with Schow on the bottom and Stenberg riding the rim on the high side. In a drag race to the finish line, Stenberg's momentum carried him to the win by a bumper.
The win was Stenberg's fourth of the season at Norman County.
Tim Shiek of Fargo, N.D. picked up the Christian Brothers Ford IMCA Hobby Stock feature win. Shiek and Alyssa White of West Fargo, N.D. had a great battle for the lead going until White made contact with Shiek down the back straightaway. That sent Shiek spinning wildly into turn three, but both he and White were able to rejoin the field.
Shiek went on to score the win as Brad Orvedal of Fargo held off White for second.
An early slip by leader Andrew Jochim of Glyndon, Minn. allowed Tye Wilke of Detroit Lakes, Minn. to take command of the Seedex INEX Legends feature. Once out front, Wilke easily cruised to the win. Brody Carlsrud of Moorhead held off Jochim to claim the second spot.
Rob VanMil started fourth and dominated the Norman County Implement IMCA Stock Car feature.
SUMMARY:
NOSA Sprint Cars:
Feature: 1. 9N-Wade Nygaard, [1]; 2. 13D-Mark Dobmeier, [4]; 3. 21K-Thomas Kennedy, [5]; 4. 2A-Austin Pierce, [11]; 5. 8H-Jade Hastings, [3]; 6. 11M-Brendan Mullen, [2]; 7. 0-Nick Omdahl, [10]; 8. 8-Jack Croaker, [13]; 9. 13-Ty Hanten, [6]; 10. 1AJ-Trevor Mell, [8]; 11. 31-Shane Roemeling, [9]; 12. 20A-Jordan Adams, [14]; 13. 26-Blake Egeland, [7]; 14. 14-Tom Egeland, [12]
Heat 1: 1. 21K-Thomas Kennedy, [1]; 2. 13D-Mark Dobmeier, [4]; 3. 8H-Jade Hastings, [7]; 4. 26-Blake Egeland, [3]; 5. 31-Shane Roemeling, [6]; 6. 2A-Austin Pierce, [5]; 7. 8-Jack Croaker, [2]
Heat 2: 1. 9N-Wade Nygaard, [6]; 2. 11M-Brendan Mullen, [7]; 3. 13-Ty Hanten, [5]; 4. 1AJ-Trevor Mell, [3]; 5. 0-Nick Omdahl, [1]; 6. 14-Tom Egeland, [4]; 7. (DNF) 20A-Jordan Adams, [2]
WISSOTA Midwest Modifieds:
Feature: 1. 87S-Reise Stenberg, [4]; 2. 2S-Matt Schow, [5]; 3. 33-Jeff Nelson, [2]; 4. 5-Aaron Blacklance, [3]; 5. (DNF) 28S-Ryan Schow, [1]
Heat 1 (6 Laps): 1. 5-Aaron Blacklance, [2]; 2. 87S-Reise Stenberg, [4]; 3. 28S-Ryan Schow, [3]; 4. 33-Jeff Nelson, [1]; 5. 2S-Matt Schow, [5]
IMCA Hobby Stocks:
Feature: 1. 31X-Tim Shiek, [3]; 2. 3XL-Brad Orvedal, [4]; 3. 14-Alyssa White, [1]; 4. 73-Todd Gettel, [2]; 5. 11S-William Smith, [6]; 6. (DNF) 21S-Brandy Smith, [7]; (DNS) 84-Adrian Kubitz,
Heat 1 (6 Laps): 1. 31X-Tim Shiek, [3]; 2. 14-Alyssa White, [1]; 3. 73-Todd Gettel, [2]; 4. 3XL-Brad Orvedal, [4]; 5. 84-Adrian Kubitz, [6]; 6. (DNF) 11S-William Smith, [5]; (DNS) 21S-Brandy Smith,
IMCA SportMods:
Feature: 1. 3X-Andy Wagner, [6]; 2. 219-Brandon Schmidt, [5]; 3. 3W-Aaron Wetterlin, [9]; 4. 40-Chris VanMil, [8]; 5. 8J-Luke Johnson, [10]; 6. 13C-Paul Colvin, [1]; 7. 19D-Noah Metzger, [7]; 8. 22-Vince Jegtvig, [11]; 9. 29S-Greg Schilling, [4]; 10. 9-Torey Fischer, [12]; 11. 47-Kreig Kasin, [2]; 12. 2X-Brady Moore, [3]; 13. (DNF) 3E-Chris Evoniuk, [13]
Heat 1 (6 Laps): 1. 219-Brandon Schmidt, [4]; 2. 3W-Aaron Wetterlin, [6]; 3. 47-Kreig Kasin, [2]; 4. 19D-Noah Metzger, [5]; 5. 29S-Greg Schilling, [3]; 6. 22-Vince Jegtvig, [1]; 7. 3E-Chris Evoniuk, [7]
Heat 2 (6 Laps): 1. 3X-Andy Wagner, [4]; 2. 8J-Luke Johnson, [6]; 3. 13C-Paul Colvin, [1]; 4. 40-Chris VanMil, [5]; 5. 2X-Brady Moore, [2]; 6. 9-Torey Fischer, [3]
INEX Legends:
Feature: 1. 72-Tye Wilke, [3]; 2. B1-Brody Carlsrud, [4]; 3. 21-Andrew Jochim, [2]; 4. 8JR-Kaitlyn Skalicky, [1]; 5. D1RT-Tony Brockhouse, [7]; 6. 34-Alex Kukowski, [5]; 7. D11RT-Blaise Deckert, [8]; 8. 5G-Garrison Miller, [6]; 9. 2-Ashton Spieker, [9]
Heat 1 (6 Laps): 1. 72-Tye Wilke, [4]; 2. 21-Andrew Jochim, [2]; 3. B1-Brody Carlsrud, [5]; 4. 8JR-Kaitlyn Skalicky, [3]; 5. D1RT-Tony Brockhouse, [8]; 6. 34-Alex Kukowski, [6]; 7. D11RT-Blaise Deckert, [9]; 8. 2-Ashton Spieker, [7]; 9. (DNF) 5G-Garrison Miller, [1]
IMCA Stock Cars:
Feature: 1. 40-Rob VanMil, [4]; 2. 11-Kalvin Kesselberg, [1]; 3. 34-Jordan Zillmer, [5]; 4. 76Z-John Sandvig, [2]; 5. 21-Tim Church, [3]; 6. 96-Erv Grossman, [6]; (DNS) 10-Travis Robertson,
Heat 1 (6 Laps): 1. 11-Kalvin Kesselberg, [2]; 2. 40-Rob VanMil, [6]; 3. 21-Tim Church, [4]; 4. 34-Jordan Zillmer, [7]; 5. 76Z-John Sandvig, [3]; 6. 96-Erv Grossman, [1]; 7. (DNF) 10-Travis Robertson, [5]