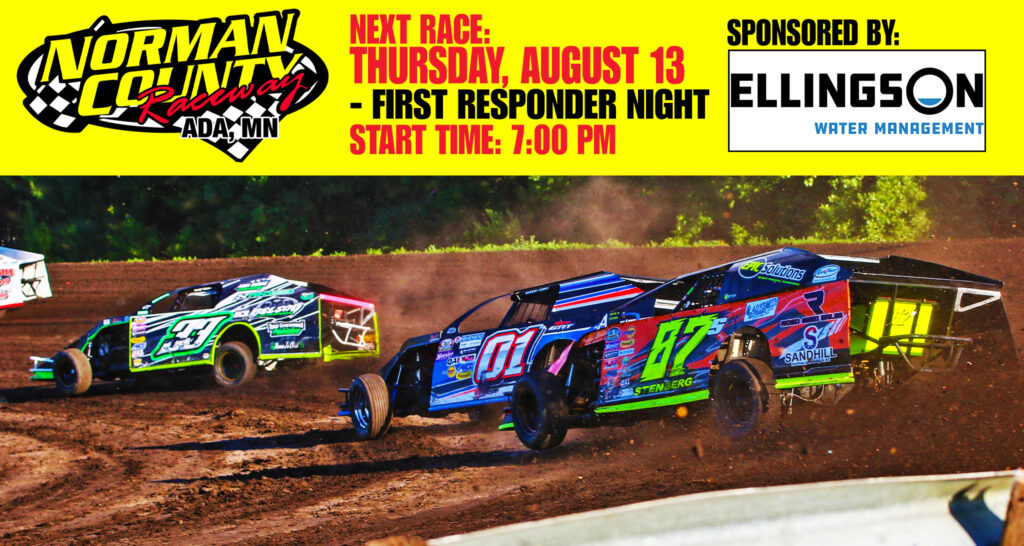 ---
Full Race Schedule: http://ncraceway.com/schedule
Racing divisions this week:
Sanders Metal Products IMCA Modifieds
Norman County Implement IMCA Stock Cars
Titan Machinery IMCA SportMods
Christian Brothers Ford IMCA Hobby Stocks
Christian Motors WISSOTA Midwest Modifieds
Seedex INEX Legends
Times:
Pit Gates Open: 3:30 pm
Grandstands Open: 5:30 pm
The Subway-Ada Green flag drops at: 7:00 pm
Drivers:
Driver Pre-Registration Cutoff: 6:00 pm day of the event. No drivers can register at the track. If you have not registered online, you will start at the back. Register here: https://www.myracepass.com/tracks/3319/registrations
Grandstand Admission:
Adult General Admission: $10
Student General Admission (Ages 13-17): $8
12 & Under: FREE
Military ticket – $8 – For Military members who have served past or present (Military ID must be shown at the ticket window)
Buy Tickets Online: https://market.myracepass.com/store/tickets/?i=1209624&store=12139
Don't Forget:
– We have delicious concession food & ice-cold beverages
Nightly Activities:
– 50/50 Tickets
Listen LIVE:
Can't make it to the race? Tune-in to 106.5 KRJB for LIVE racing coverage. You can also listen online at: http://www.rjbroadcasting.com Pre-race coverage begins at 6:45 pm.
Social Media:
Website – http://ncraceway.com
Facebook – https://www.facebook.com/NormanCountyRaceway
Twitter – https://twitter.com/ncrada
Instagram – https://www.instagram.com/ncraceway
MyRacePass – https://www.myracepass.com/profile/?r=3319&rt=track
Speedway Shots Picture Gallery – https://www.speedway-shots.com/Norman-County-Raceway/2020
Push Notifications:
http://ncraceway.com/2020/05/push-notifications
Norman County Raceway:
503 West Thorpe Avenue – Ada, MN
Phone: 218-474-1104
Fax: 218-456-2202
Mailing Address: 2287 170th street Halstad, MN 56548
Track Address: 503 west Thorpe Ave ADA, MN 56510
Track Surface: 3/8 mile dirt oval
---
General Information for all participants:
– Practice social distancing.
– When seating yourself, go ahead and sit with the people you came with, but distance your group from other groups.
– While waiting in lines, remember to stay six feet away from people.
– We will have the gate on the south side of the grandstands open to help with traffic flow in and out of the grandstands throughout the night. The chutes will be one way only. You can go up the south chute and down the north chute. Watch for signs. At the end of the night, we will also open the gate on the north side of the grandstands.
– The Candy Toss will not be happening for a while.
– Trophy presenters and honorary flagmen are also on hold.
– We are adults and in charge of our own health and safety and you are in charge of your minor children. If you are sick, stay home. If you have a fever, stay home.
– The CDC recommends the wearing of face masks.
– Signs will be up to help explain and remind you of the things you need to do.
Drivers/Pit Crew:
– You must register to race online by 6:00 pm on the day of the event. To register go to: https://www.myracepass.com/tracks/3319/registrations. Make sure you finish your registration. No drivers can register at the track. If you have not registered online, you will start at the back.
– If you haven't already, fill out your W-9 and bring to the track filled out -we only need page 1. (https://www.irs.gov/pub/irs-pdf/fw9.pdf) We cannot pay you without it.
– Pit Passes – EXACT CHANGE or check only at the gate will be accepted.
– One vehicle at a time at the pit gate. Please wait until the people in front of you have finished before approaching the sign in.
– Bring your own pen.
– Participants will put on their own wristbands.
– EVERYONE must still sign a waiver at the pit gate. We will also have contact tracing slips to fill out.
– Things may look different, but we are doing everything we can to put on a fun night of racing. Bear with us as we expect things to change throughout the season.
---